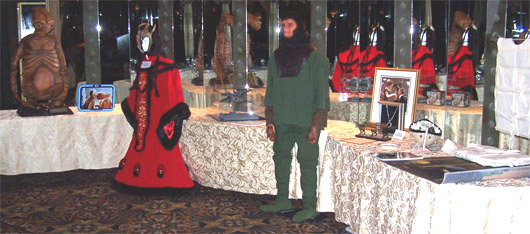 Guests at the First Annual Banquet & Museum Exhibit enjoyed a night of fine dining, entertainment, raffle prizes, and the opportunity to converse with peers in the local film industry. LIMPACM also set up an elaborate display of sample museum pieces from the current collection, including vintage film equipment, wardrobes, props, and replicas from such movies as Titanic, Star Wars, ET & Terminator. The evening proved to be a success for our organization's first event.
LIMPACM wishes to extend a special thanks to everyone who attended the Banquet. We would also like to recognize everyone who purchased a booster or advertisement in the Banquet Journal. Additional thanks to all donors of raffle prizes (over 20 prizes!).
Please select the links below to view more details of the evening.